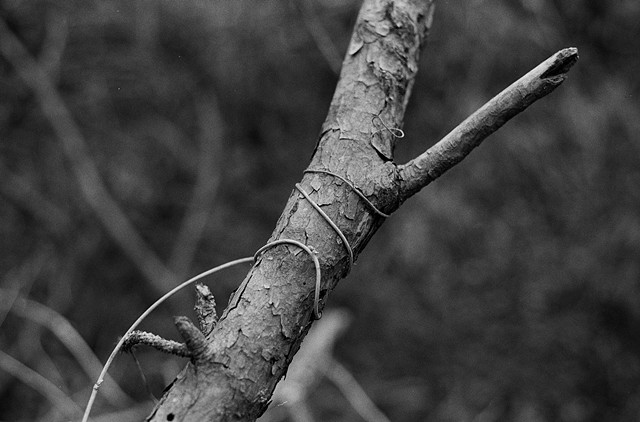 Using photography presented in the form of artist books, my work invites a slow and meditative observation on landscape and the natural world. My photographs are quiet, carefully formally considered and focus on mundane and overlooked corners of the environments which surround me. Through my approach to making pictures, I seek to create work where the viewer is drawn to closely study what is culturally deemed pointless or meaningless, leading to new ways of thinking and judgements of value. Consequently, I also seek to approach and treat the plant and animal as subject, not just object, as the prevailing ideological and cultural framework of western society treats the non-human primarily as objects worthy only of the extraction of value and capital.
I am greatly influenced by the tradition of the photobook and poetic documentary photography and choose to work in the form of the artist book as it allows for the development of a nuanced and shifting relationship between images and material beyond my photographs such as archival and scientific diagrams. I have also begun to incorporate my own drawings and scientific illustrations into my photographic book works, as in my piece, Field Guide, while my practice expands beyond photography. Furthermore, I utilize the nature of the book as an organized series to reflect the importance of walking as an engagement with the landscape in my practice and process of photographing. The sequencing of my books often seeks to communicate my subjective experience of looking and observation, inviting the viewer to consider the act of looking and photography itself and interrogate the ways in which we make meaning and develop knowledge about our environments.
In my most recent work, I am photographing more diaristically and expanding my investigation of landscape into a more emotional and personal approach. I am also beginning to work in ceramics, as I find that my photographic practice is very solitary and introspective, while ceramics allows me to work more physically and communally. Ceramics provide a direct and tactile engagement with the materials of the landscape, such as clay. I am currently working on a large ceramic vessel which will be placed in a Chicago forest preserve at nightfall and documented in a video piece.